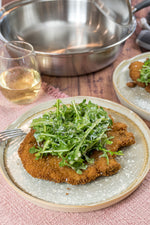 Cottoletta (Fried Pork Chop)
Recipe by Chef Shaun O'Neale
Serves 4
Cottoletta
4 Bone in pork chops, pounded thin
2 cups AP flour
1 tablespoon onion powder
1 tablespoon garlic powder
1 tablespoon smoked paprika
1 tablespoon ground mustard
Salt & pepper to taste
2 eggs
1/2 cup milk
2 cups panko
Vegetable oil to fry
Arugula Salad
Juice of 2 lemons
1 teaspoon dijon mustard
1 1/2 teaspoons honey
1/2 cup extra virgin olive oil
Salt & pepper to taste
Arugula
Shaved parmesan
To make the cottoletta:  On a large plate combine the flour, onion powder, garlic powder, smoked paprika, ground mustard, salt & pepper. Stir well to combine and taste to make sure you do not need more salt. In a large bowl combine the milk and the eggs and whisk well with a fork. On another large plate add the panko. Bread the pork chops by dredging in the flour, then dunk the pork chop in the egg wash and return to the flour. Dunk the pork chop once more in the egg Wass and then finally to the panko, apply slight pressure to the pork chops to ensure the panko sticks. Transfer the chop to a sheet pan lined with  parchment paper. Repeat with the remaining pork chops. Once finished place the pork chops in the freezer for at least 30 minutes.
To fry the cottoletta: Place the CookCraft 13in French Skillet over medium high heat. Add enough oil to come about 1in top the side of the pan and heat to 350 degrees. Fry the pork chops for about 7 minutes or until golden brown and crunch with an internal temp of 145 degrees.
To make the arugula salad: Combine the lemon juice, Dijon, honey, olive oil, salt & pepper to a small food processor and process until emulsified. Place the arugula in a large bowl and shave the parmesan over top. Lightly dress the salad with the dressing and toss to combine. Season with salt & peppers to taste. Place the salad directly on top of the pork chop and drizzle more of the dressing around the chop.