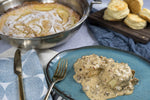 It's Brunch Time!
Cinnamon Apple Dutch Baby Pancake & Biscuits & Gravy
Serves 4
Dutch Baby Pancake
6 eggs
2/3 cup of whole milk
2/3 cup flour
1 tablespoon brown sugar
1 teaspoon vanilla extract
1/2 teaspoon salt
1/4 teaspoon cinnamon
3 tablespoons butter
1 Honey Crisp apple, sliced thin
Topping
Cinnamon sugar
Powdered sugar
Biscuits & Gravy
8 homemade or store bought biscuits
1 tablespoons extra virgin olive oil
1/2 pound hot breakfast sausage
2 tablespoons butter
2 tablespoons all purpose flour
1 cup heavy cream
1 1/2 cup whole milk
1/2 teaspoon crushed red pepper
Salt and black pepper to taste (heavy on the pepper)
To make the Dutch baby pancake: Set your oven to 425 degrees and place the CookCraft 12" Dual Handle Casserole Skillet in the oven so it heats as the oven heats. Once the oven is pre heated allow the skillet to heat for 5 more minutes. In a blender combine the eggs, milk, flour, vanilla, salt, and the cinnamon and blend until smooth. Carefully remove the skillet from the oven and add the butter, rotate the skillet so the butter coats the entire skillet. Pour in the pancake mix and place the apple slices on top of the batter, leaving about 1/2 inch of space on the edges so the pancake can rise. Cook the pancake for 25 minutes or until golden brown with risen edges. Remove from the oven and let cool slightly. Top with the cinnamon sugar and the powdered sugar and serve,
To make the biscuits and gravy: Place the CookCraft 10 inch skillet over medium heat. Add the olive oil and let it warm. Add the sausage breaking it up with your hands. Use a spoon to break the sausage up as much as you can while it is cooking, chunks should not be much large than a pea. Once browned transfer the sausage to a bowl with a slotted spoon leaving the fat in the skillet. Add the butter and let melt, once melted and bubbling add the flour and whisk, Cook for about 2 to 3 minutes whisking constantly to make your roux. Pour in the heavy cream and the milk and return the sausage to the skillet. Season with the crushed red pepper, salt and black pepper to taste, I like a lot of black pepper. Whisk almost constantly until the gravy is thick, about 5 to 7 minutes. Remove from the heat and pour gravy over the biscuits, serve.
Recipe by Chef Shaun O'Neale, Master Chef Season 7 Winner