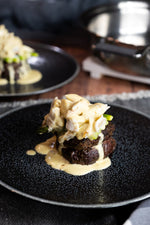 Steak Oscar
Recipe by Chef Shaun O'Neale, Master Chef Season 7 WInner
Serves 2
Steak
2 x 8 oz beef tenderloins
Salt & freshly cracked pepper
2 tablespoons vegetable oil
3 tablespoons butter
3 sprigs thyme
2 sprigs rosemary
Oscar
2 large egg yolks
Juice and zest from 1 lemon
½ teaspoon cayenne pepper
½ pound butter, divided
8oz jumbo lump crab
10 asparagus, blanched
Salt & freshly cracked pepper to taste
To make the steak: 30 minutes before you plan to cook the steak remove the steak from the fridge and let come to room temp, season liberally with salt and pepper and let sit. Place the CookCraft 10in Skillet over high heat and add the vegetable oil. Once the oil is lightly smoking add the steaks and sear hard on both sides, about 1-2 minutes per side. Add the butter and the herbs and baste the steaks. Place the skillet with the steaks in a 400-degree oven and finish to medium rare, about 5 minutes. Remove from the oven and let rest for 5-10 minutes.
To make the "Oscar": Place the CookCraft 3qt Sauce Pan over medium-low heat and fill ¼ of the way with water. Place a bowl over the sauce pan creating a bain marie. Add the egg yolks and the lemon juice to the bowl and whisk constantly until the eggs start to thicken. Melt ¾ of the butter. Slowly pour the melted butter into the bowl to emulsify the egg yolks, whisk constantly. Season with the cayenne and salt and pepper to taste. Transfer to a bowl and keep warm until ready to serve. Return the CookCraft 3qt sauce pan to the stove and add the remaining butter over medium heat. When the butter has melted add the crab and let warm through. Remove the crab and add the asparagus to warm through.
To plate the Steak Oscar: Place 1 filet in the middle of each plate top with 5 asparagus, half of the crab and drizzle the hollandaise over the top. Serve & enjoy!