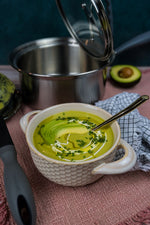 Green Gazpacho by Chef Shaun O'Neale
Serves 4
This recipe is designed to use scraps, leftovers, or extra green veggies from the garden.
Green Gazpacho
2 tablespoons extra virgin olive oil
1 shallot, minced
2 celery stalks, minced
1-2 pounds asparagus stems, chopped and blanched
1-2 cucumber, peeled and chopped
½ jalapeno, chopped and seeded
3 scallions, chopped
1 avocado, chopped
1-2 cups veggie stock
Salt & white pepper to taste
Garnish
Sour cream
Chives
Good quality olive oil
¼ avocado, sliced
To make the gazpacho: Add the olive oil to the CookCraft 8qt Stock Pot over medium heat. Add the shallots and season with salt & white pepper. Stir often and cook until soft, about 5 minutes, add the celery and cook for 3 more minutes. Add the asparagus, cucumber, jalapeno and scallions and season with salt and white pepper, cook until vegetables are just tender and bright green. Add the veggie stock and cook until just hot. Carefully transfer to a blender and blend until very smooth. Press through a mesh sieve into a large bowl and season with salt & white pepper if needed. Place in the fridge to cool completely. Soup should be served cold and topped with sour cream, good quality olive oil, chives and avocado.