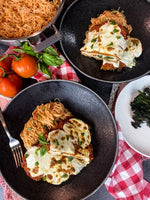 Stuffed Chicken Parmesan
Serves 2
Stuffed Chicken Parmesan
2 Chicken breasts
8 basil leaves
2 balls of fresh mozzarella, sliced thin and divided
½ cup sundried tomatoes
2 cups flour
1 tablespoons garlic powder
1 tablespoon onion powder
2 eggs
½ cup whole milk
2 cups panko bread crumb
1 cup tomato sauce
¼ cup parmesan
Oil for frying
Salt & pepper to taste
Pasta
½ pound angel hair pasta
1 cup tomato sauce
Garnish
Fresh basil, minced
To make the chicken parmesan: Butterfly each chicken breast and pound to about ¼ inch thick. Stuff the chicken with 4 basil leaves each, the thinly sliced mozzarella (reserving half of the mozz for the top of the parmesan), and the sundried tomatoes. Fold the chicken over the filling and press to close.
Set up your breading station. On one plate add the flour, salt, pepper, garlic powder, and onion powder and stir well to combine. In a bowl add the eggs and the milk and whisk well. On another plate add the panko. Bread the stuffed chicken breasts by first coating in the flour, then coat in the egg mixture, return the breast to the flour and then back in the egg mixture, finally, coat in the panko and set on a sheet pan. Repeat the process with the remaining chicken breast. Place the chicken in the freezer for at least 1 hour.
Pre-heat the oven to 400 degrees and your oil to 350 degrees. Fry the chicken for about 5 minutes per piece or until golden brown, crunchy, and cooked through. Transfer to a sheet pan and top with the tomato sauce and the remaining mozzarella, and the parmesan cheese. Place in the oven for about 10 minutes or until the cheese is melted and golden brown. Remove and let rest for five minutes before serving.
To make the pasta: Cook the pasta as instructed on the packaging. Add the tomato sauce to your skillet and warm over medium low heat. Once the pasta is cooked transfer to the sauce with ¼ cup of the pasta water and toss well to coat the pasta in the sauce.
Enjoy!