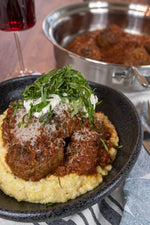 Wagyu & Berkshire Meatballs w/ Creamy Polenta
Serves 3 to 4
Meatballs
2 slices bread, cut into cubes
3/4 cup milk
1 pound wagyu bavette steak or wagyu scraps, ground (can sub short rib or brisket)
1/2 pound Berkshire pork, ground
1 carrot, finely minced
1 celery stalk, finely minced
1/2 onion, finely minced
4 to 5 cloves garlic, finely minced
2 tbsp oregano, minced
2 tbsp basil, minced
1 tbsp thyme, minced
1 cup parmesan cheese
1 egg
Salt and freshly ground black pepper
2 tbsp extra virgin olive oil
Tomato Sauce
1 2lb can of whole peeled san Marzano tomatoes
2 tbsp extra virgin olive oil
1 small onion, diced
5 cloves garlic, minced
1 cup red wine
3 sprig thyme
3 sprig oregano
3 sprigs basil
1/2 cup vegetable stock
Salt and freshly ground black pepper
Creamy Polenta
2 cups water
2 cups milk
1 cup polenta (corn grits)
1 cup parmesan cheese, freshly grated
Salt and freshly ground black pepper
Garnish
Parmesan, freshly grated
High quality ricotta
Basil
 To make the meatballs: In a small bowl add the bread and pour over the milk making sure all the bread is submerged, let soak for 2 to 3 minutes. In a large bowl add the remaining ingredients. Squeeze the excess milk out of the bread and add to the meat. Mix well to combine being careful to to squeeze the meat too much, you want to have a gentle hand but make sure all of the ingredients are fully incorporated. Make the meatballs a little smaller than a baseball, you should have between 9-12 depending on the size. While forming the ball again be careful not to press too hard, use your hands and gently roll the ball around your palms without applying too much pressure until you have a smooth round meatball. Place the balls on a sheet pan and place in the fridge for 30 minutes juts to help them hold their shape while cooking.
To make the tomato sauce: Place the CookCraft 10in skillet over medium heat. In a large bowl add the canned tomatoes and break them up with your hands, squeezing them gently until you have a bowl of finely crushed tomatoes.  Add the olive oil to the pan once hot add the onion and cook until translucent, about 4 minutes stirring often. Add the garlic and cook until fragrant, about 2 minutes stirring often. Add the red wine and reduce until the pan is almost dry, about 5 minutes. Using butchers twine tie the thyme, oregano and basil into a bundle. Add the herb bundle and the tomatoes with 1/2 cup of vegetable stock. Reduce the heat to low and simmer for 30 minutes. Season with salt and pepper to taste.
To make the creamy polenta: Add the water and the milk to the CookCraft 6qt sauce pan and set over medium high heat. Once the milk mixture is simmering whisk in the polenta slowly. Cook the polenta for 30 minutes, stirring very often and almost constantly toward the end of the cooking. Add the parmesan when you have 5 minutes of cooking time remaining, season with salt and pepper and finish cooking.
To cook the meatballs: Pre-heat your oven to 400 degrees. Place the CookCraft 13in French skillet over high heat and let get very hot. Add the olive oil and let heat until it starts to smoke just slightly. Add the meatballs and sear on all sides. Once the balls are seared place the skillet in the oven and cook for 15 to 20 minutes or until the balls are just barely cooked through. Remove the balls from the oven and add them to the skillet with the tomato sauce over medium heat coat the balls in the sauce.
To serve: In a bowl add the creamy polenta and top with three meatballs, spoon some of the tomato sauce over the balls, top with the parmesan, ricotta and basil, serve.