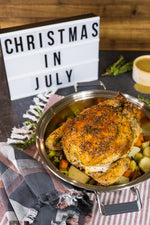 Christmas in July
Roast Chicken & Vegetables w/ Gravy
Recipe by Chef Shaun O'Neale
Serves 4
Compound Butter
1 stick unsalted butter, room temp
4 sprigs rosemary, minced
8 sprigs thyme, minced
Salt to taste
Chicken & Vegetables
1 medium sized chicken
5 russet potatoes, peeled and large chop
4 carrots, peeled and large chop
4 celery stalks, large chop
2 large shallots, peeled and large chop
Salt & pepper to tase
Gravy
3 tablespoons butter
3 tablespoons AP flour
Drippings from the cooked chicken
1 cup chicken stock
Salt and pepper to taste
To make the compound butter: Combine the butter, rosemary and thyme in a bowl and mix well to combine. Season with salt to taste.
To make the roast chicken and vegetables: Season the inside of the chicken with salt and pepper. Truss the chicken as instructed in the corresponding video on www.cookcraftco.com. Once the chicken is trussed, rub the butter all over the chicken making sure you lightly coat the entire bird. Season the exterior of the bird liberally with salt and pepper. Place all the vegetables in the bottom of the CookCraft casserole skillet, season with salt, pepper and olive oil and mix well. Place the chicken on top of the veggies and cook at 425 degrees for 25 to 30 minutes. Remove the chicken from the oven and baste lightly with olive oil. Return to the oven. Reduce heat to 400 and continue cooking for about 40 minutes or until an internal temperature of 162 degrees. Remove from the oven and let rest for 20 minutes, internal temp should be 165 by this time. If vegetables are not fully cooked return to the oven until just tender.
To make the gravy: Strain the liquid out of the pan used to cook the chicken. In the CookCraft 3qt sauce pan add the 3 tablespoons of butter and let melt over medium heat. Once melted add the flour and whisk well to combine. Cook the roux for about 3 to 5 minutes whisking often until roux is golden brown. Add the pan drippings and the stock and whisk well to to combine. Cook to your desired thickness and season with salt and pepper. Serve along with roast chicken and vegetables.