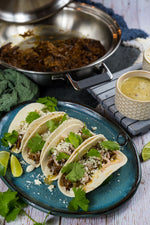 Barbacoa Tacos w/ Tomatillo-Arbol Salsa
Recipe by Chef Shaun O'Neale
Serves 4
Chipotle Sauce
4 chipotle peppers
2 tablespoons adobo sauce (from the canned chipotles)
2 limes
1 tablespoon beef bouillon
1/3 cup apple cider vinegar
5 cloves garlic, minced
2 tablespoons cumin
2 tablespoons oregano
1/4 teaspoon allspice
1/2 cup beef broth
Beef Barbacoa
4 pound beef chuck roast
Salt & pepper
2 tablespoons vegetable oil
1 yellow onion, chopped
3 tablespoons tomato paste
4oz can diced green chiles
1 1/2 cup beef broth
2 bay leaves
1 lime, cut in half
Tomatillo Salsa
3 arbol chiles
4 cloves garlic
1 serrano chile
8 tomatillo, cleaned
1 tablespoon cumin
1/4 cup water
1/4 cup white wine vinegar
Salt & pepper to taste
Pickled Shallot
2 large shallot, sliced thin
2 tablespoons pickling spice
1 cup red wine vinegar
1/4 cup sugar
2 tablespoons salt
1 cup water
Garnishes
Corn or flour tortillas
Cotija cheese
Cilantro
To make the chipotle sauce: Place all of the ingredients in a small food processor and process until smooth. Transfer to a bowl and set aside until ready to use.
 To make the Barbacoa: Pre heat the oven to 275 degrees. Cut the beef into 5 to 6 large pieces and season well with salt and pepper. Place the CookCraft 12" Dual Handle casserole skillet over high heat one your stove and add the vegetable oil. Sear the beef on all sides about 3 minutes per side, working in batches so you do not crowd the pan. Once seared transfer to a plate and sear the remaining meat. Add the onions and lower the heat to medium, cook the onions until translucent about 5 minutes stirring often. Add the tomato paste and stir, cook for about 2 minutes or until the tomato paste stars to turn a darker color of red. Add the green chiles, beef broth, bay leaves and the lime. Bring the mixture back to a simmer and then return the beef to the skillet. Place the lid on the skillet and place the skillet in the oven. Cook for 3 to 4 hours or until the beef is very tender and able to be shredded.
 Remove the beef form the liquid to a bowl and shared the beef. Strain the liquid and discard the solids. Place the remaining liquid in the CookCraft 3 qt sauce pan and place over medium high heat, reduce the sauce until it coats the back of a spoon, about 10 minutes. Return the shredded beef to the casserole skillet and set the oven to broil. Stir the some of the reduce chipotle sauce in to the beef and stir to combine, taste and add more sauce as needed. Place the beef under the broiler and lost the beef crisp on top. Serve.
 To make the tomatillo salsa: Place the CookCraft 10in skillet over high heat on the stove.  Add the arbol, garlic and serrano to the skillet and cook until the ingredients start to blacken. The chiles will be done first and the garlic and serrano shortly after. Place the tomatillo in a oven safe dish and add to the oven cook until soft. Add the arbol, garlic, serrano, and the tomatillo to a food processor along with the cumin, water, vinegar and season with salt and pepper. Process until almost smooth but still slightly chunky. Set aside in the fridge until ready to serve.
 To make the pickled shallot: Place the CookCraft 3qt sauce pan over medium heat and add the pickling spice, toast the spices for about 3 to 5 minutes, stirring often. Add the vinegar and cook for about 5 minutes. Add the sugar, salt and water and let simmer for 10 minutes. Strain the mixture ad pout the hot liquid over the shallots. Let cool and then place in the fridge for at least an hour before serving.