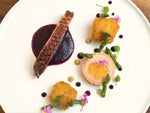 Seared Duck Breast with Orange-Balsamic Brussels Sprouts and Cherry Reduction
Serves 4
Recipe by Chef Shaun O'Neale–
Winner of MasterChef USA Champion Season 7
Duck Breast
- 4 Margaret Or Moulard duck breasts
- Salt & papper to taste
- 2 tablespoons butter
- 6 sprigs thyme
- 3 sprigs rosemary 
Orange-Balsamic Brussels sprouts
- 1 pound Brussels sprouts, washed and cut in half through the stem
- 2 tablespoon olive oil
- 2 slices of pancetta, cut thick on the #8 setting from your deli then cut into small pieces
- 20 red pearl onions, blanched and peeled
- 1/2 cup balsamic vinegar
- 1/2 cup fresh squeezed orange juice
- 1 tablespoon honey
- Salt and pepper to taste
Cherry Reduction
- 2 tbsp olive oil, divided
- 1 cup frozen cherries
- 1/4 cup water
- 1 shallot, minced
- 1/2 cup balsamic vinegar
- 2 cups red wine
- 1 sprig rosemary
- 1 sprig thyme
- 4 tbsp butter
- Salt and pepper to taste
Fried Shallots
- 4 large shallots, peeled and sliced in 1/4 in rings
- 1 cups buttermilk
- 1 cup flour
- 2 tablespoons Aleppo pepper
- Salt and pepper to taste
- Oil for frying 
To make the duck: Score the skin on each breast diagonally across the breast and then rotate the breast and score again, you will have a diamond shaped pattern running the length of the breast. Season Wirth salt and pepper and place in a cold non stick pan over medium low heat, cook for about 20 minutes or until most of the fat is rendered. Turn the heat up to medium high to crisp the skin and then flip. Add the butter and herbs and baste the duck while cooking through for about 3 minutes or until the duck breast is medium rare. Rest for 5 minutes slice into 1/4 in slices.
To make the orange-balsamic Brussels sprouts: Place a cast iron skillet over medium heat and cook the pancetta until almost crisp, remove the pancetta to a paper towel lined plate, add Brussels sprouts and the onions, try to get all the sprouts in the pan cut side down, cook for about 5 minutes without moving the skillet or stirring to develop a cha, stir the sprouts and continue to cook for 5 more minutes or until tender, add the vinegar and cook until reduced to almost nothing, add the orange juice and honey and cook until the liquid is a glaze, add the honey and season with salt an pepper, stir well to combine and remove from the heat.
To make the cherry reduction: In a saucepan add 1 tbsp of the oil over medium heat and add the cherries cook for 5 minutes or until the cherries start to release their liquid. Add the water and bring to a boil. Transfer the mixture to a blender and blend until smooth. In a skillet add the remaining 1 tbsp of oil over medium heat, add the shallots and cook to translucent stirring often. Add the balsamic and reduce by 1/2, add the red wine and the herbs and reduce by 2/3. Strain the sauce and return to a clean ban, reduce until sauce coats the back of a spoon. Remove from heat and whisk in the butter. Season with salt and pepper to taste.
To make the fried shallots: Soak the shallots in the butter for 1 hour. Add the oil to a deep pot and bring to 350 degrees on the stove over medium heat. Place the shallots and the flour, Aleppo, salt and pepper in a large ziplock back. And shake well to coat. Remove the shallots a shake off excess flour. Fry until golden brown and crisp. Remove to a paper towel lined plate.