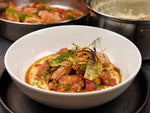 Shaun's Shrimp & Grits
Serves 4
Recipe by Chef Shaun O'Neale
Winner of MasterChef USA Champion Season 7 
Grits
- 4 cups vegetable stock
- 1 cup white stone ground grits
- 2 bay leaves
- 3 sprigs thyme
- 3/4 cup mascarpone cheese
- 4 tablespoons butter
- Salt and white pepper to taste
Shrimp
- 2 pounds medium shell on shrimp, Peeled, tails removed and shells reserved
- 3 tablespoons olive oil, divided
- 2 cups water
- Creole spice
- 2 andouille sausages, diced
- 1 shallot, minced fine
- 1 roasted red bell pepper rot 3 piquillo peppers, diced
- 4 sprigs thyme
- 1 can diced tomatoes
- 2 tablespoons butter
- 2 tablespoons chives, minced fine
- Salt and freshly ground black pepper
Braised Fennel
- 2 large heads fennel, cleaned and cut into wedges
- 1 tablespoon olive oil
- Salt and freshly ground black pepper
- 1/2 cup white wine
- 1 1/2 cups vegetable stock
Garnish
- Fennel leaves
- Chives, minced fine
To make the grits: Place the CookCraft 3qt sauce pan over medium high heat and add the vegetable stock, bring the stock to a simmer and add the grits, bay and thyme, cook stirring very often until the grits have absorbed the liquid and are cooked tender. Remove the bay and the thyme sprigs and add the mascarpone and butter and stir well to combine (if you like your grits creamier add a little more of the mascarpone). Season with salt and white pepper to taste.
To make the shrimp: In a sauce pan add 1 tablespoon of the olive oil over medium heat once hot add the reserved shells and cook until they have turned pink. Add the water and cook for 30 minutes and a simmer. If you notice water evaporating replace it with fresh water.
In a large pan add the remaining oil over medium high heat, once oil is hot add the shrimp in batches seasoning with the creole seasoning and cook almost through. Remove the shrimp to a plate and reserve. Add the sausage to the pan and cook until starting to crisp about 3 minutes, add the shallot and cook for 1 minute add the bell pepper, thyme, the shrimp stock and the tomatoes and cook until mixture is reduced, about 10 minutes. Return the shrimp to the pan and add the butter, chives and season with salt to taste.
To make the braised fennel: In a CookCraft 12in Dual Handle Pan add the olive oil add the fennel and season with salt and pepper, cook until golden brown and flip, cook until golden again. Add the wine and reduce until all liquid is gone, add the stock and cover the pan, turn the heat to low and braise for 20 minutes.
To plate: Place some of the grits in each bowl and divide the shrimp evenly, pour over some of the sauce from the shrimp pan and divide the fennel among the plates, top with fennel leaves and the chives.