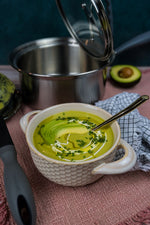 Green Gazpacho by Chef Shaun O'Neale Serves 4   This recipe is designed to use scraps, leftovers, or extra green veggies from the garden.   Green Gazpacho 2 tablespoons extra virgin olive oil 1 shallot, minced 2 celery stalks, minced 1-2 pounds asparagus stems, chopped and blanched 1-2 cucumber, peeled and chopped ½ jalapeno, chopped and seeded 3 scallions, chopped 1 avocado, chopped 1-2 cups veggie stock Salt & white pepper to taste   Garnish Sour cream Chives Good quality olive oil ¼ avocado, sliced   To make the gazpacho: Add the olive oil to the CookCraft 8qt Stock Pot...
---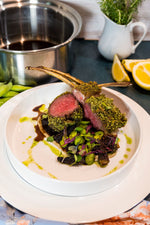 Serves 2    Rosemary Thyme Salt 3 tablespoons Maldon sea salt Leaves from 2 sprigs fresh rosemary, minced Leaves from 4 sprigs fresh thyme, minced 2 tablespoons freshly ground black pepper   Herb Crusted Lamb 1 rack of lamb Rosemary thyme salt 4 sprigs rosemary 8 sprigs thyme 4 tbsp butter 1 cup flat leaf parsley, roughly chopped 1/4 cup fresh oregano, roughly chopped 1/4 cup fresh savory, roughly chopped 1/4 cup fresh mint, roughly chopped 2 cups panko bread crumbs 2 tablespoon oil 1/4 cup dijon mustard   Burnt Eggplant Puree 3 Chinese eggplants, 2 ends cut and sliced...
---
February is the month of LOVE and Chef Shaun O'Neale has created the perfect recipe for you to create for your loved one this Valentines Day!  Make the day with a special meal!   You will need your CookCraft 12" Dual Handle Casserole and the 13" French skillet to make this dish. Beef Rossini w/ Creamed Spinach     Serves 2        Madeira Truffle Jus   1 tablespoon extra virgin olive oil   2 shallots, minced   3 cloves garlic, minced   1/2 cup Pedro Jiminez Sherry Vinegar   1 1/2 cup Madeira wine   1/2 ounce Perigord black...